Wimme CD "Mun" released in China
September 1st, 2011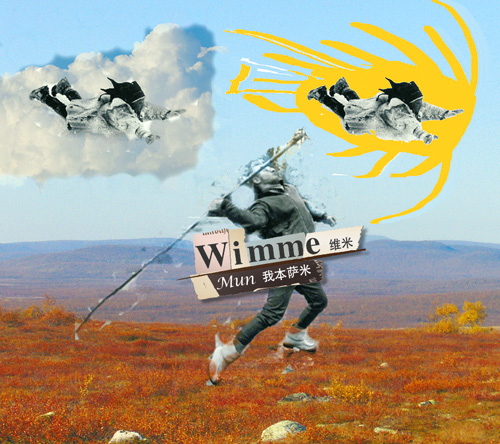 The latest album "Mun" by Finnish Sámi joik artist Wimme continues to create buzz in new markets around the World. The Chinese pressing of the CD will be released by Shanghai Synergy on Monday, September 5. It includes slightly modified cover artwork and Chinese liner notes as well as song lyrics printed in Sámi, English and Chinese.
Wimme's "Mun" is the first physical CD release following Rockadillo's label deal with leading Chinese company Shanghai Synergy. The album was a Top 10 radio airplay hit at World Music Charts Europe in 2010. Wimme performed seven concerts around China last year.
Wimmen "Mun" julkaistaan Kiinassa
Saamelaisjoikaaja Wimmen uusin albumi "Mun" jatkaa voittokulkuaan maailmalla. Levyn kiinalainen painos julkaistaan Shanghai Synergyn toimesta maanantaina 5. syyskuuta. Levyn kansitaidetta on muutettu hieman kiinalaisiin tarpeisiin ja CD:ssä on kiinalaiset kansitekstit sekä laulutekstit saameksi, englanniksi ja kiinaksi.
Wimmen "Mun" on ensimmäinen fyysinen levyjulkaisu Rockadillon ja johtavan kiinalaisyhtiö Shanghai Synergyn yhteistyösopimuksen seurauksena. Albumi oli viime vuoden menestyneimpiä julkaisuja World Music Charts Europen radiosoittolistoilla. Vuonna 2010 Wimme soitti seitsemän konserttia ympäri Kiinaa.